Volunteers don't just work, they make it work! Volunteers are needed in planning, promoting and running the event. There are jobs for everyone. Sign-up today if you would like to volunteer.
We offer 100+ vendor spaces at the event on Main Street from food and merchandise vendors, to support groups and business partners. Reserve your spot today for 2021 Metro East Pride Fest.
Metro East Pride Fest is possible due to the generous support of local businesses, organizations and individuals. There are many sponsor levels to choose from and all donations are greatly appreciated.
Queen of Pride - Stephanie Six Trombones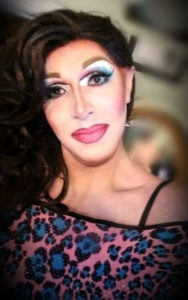 It has been a year and a half since I started my drag career and I am constantly amazed at the opportunities I have been given. I am so incredibly thankful to be chosen as Queen of Metro East Pride. It is my goal to use this platform to reach out to as many different people that I possibly can and show them that they matter and are valued. I have a background in musical theatre and obsessed with anything Disney. I have worked jobs ranging from managing multi-millions in jewelry for Saks Fifth Avenue to working with the circus. You can catch me performing at The Grey Fox, Rehab, Bar PM, and many other venues.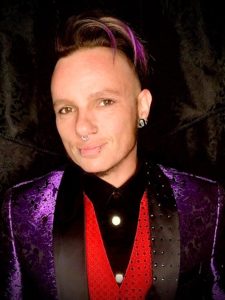 I am Jaq Qrow (Jacks Krow). I got my start in the wondrous world of drag in May of 2019. The stage has helped me along in my journey through transitioning FTM, developing friendships, and overcoming struggles with mental illness. I don't shy away from music that is a bit more angry, creepy, or even a touch sad, but also include other genres. I use this platform and choice of music to work through my own highs and lows of life but also as a lighthouse for others to feel safe in expressing their own hardships and struggles. My goal is to help as many people as possible, to feel seen, understood, accepted, valued, and loved for who they are no matter the differences. I am honored and humbled to have been chosen as King. You can catch me performing at Club Escapade, Bubby and Sissy's, Grey Fox, and Bar:PM. Remember, you are never alone, there are millions of us, just like you.
Alexis Marie Grayer-Von Furstenburg
Doug Bernier Spirit of Pride Award
For Exceptional Spirit, Pride and Love of Self and Community
Sonny Pitts MEPSI Spirit Award
In recognition of your continued Support, Dedication and Community Spirit
Brenda Grissom & Dixie Ruliffson
Community Service Award
For Outstanding Service to the Metro East LGBTQ+ Community
| Start Time | End Time | Performer(s) |
| --- | --- | --- |
| 12:00 PM | 12:30 PM | CHARIS, The St. Louis Women's Chorus |
| 12:30 PM | 1:00 PM | Ryan Conner |
| 1:00 PM | 2:00 PM | DJ Landyn Cade |
| 2:00 PM | 2:15 PM | Awards and Announcements |
| 2:15 PM | 3:00 PM | EarthSol |
| 3:00 PM | 4:00 PM | StompBox and the Mixtapes |
| 4:00 PM | 5:30 PM | Ashan & Grotsky |
| 5:30 PM | 8:30 PM | Champagne Fix |
| 8:30 PM | 10:00 PM | High Heel Drag Race / Drag Show |