Volunteers don't just work, they make it work! Volunteers are needed in planning, promoting and running the event. There are jobs for everyone. Sign-up today if you would like to volunteer.
We offer 100+ vendor spaces at the event on Main Street from food and merchandise vendors, to support groups and business partners. Reserve your spot today for 2021 Metro East Pride Fest.
Metro East Pride Fest is possible due to the generous support of local businesses, organizations and individuals. There are many sponsor levels to choose from and all donations are greatly appreciated.
Queen of Pride - Roxie Valentine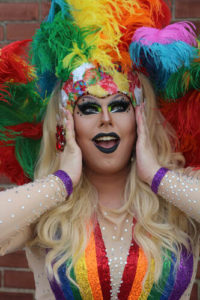 I'm a horror/glamour queen that has been making splashes in the St. Louis drag scene for the last 5 years. In that time she's been able to travel the state of Missouri and to various cities. Roxie's influences come from classic horror movies, pop culture, and the fashion of today's pop stars. In addition to Metro East Queen of Pride 2019 and 2020, this beauty has earned a few additional titles including Miss Gay City of Roses Missouri USofA, Miss Gay Tattoo the Lou and Mx. C. U. Next Tuesday. Roxie's goal each time she graces the stage is to entertain you as either a drag monster or as the campy blonde girl (who would die first in the horror movie). You can catch her performing at locations such as Leos, Bubby and Sissy's and Grey Fox Pub. Follow her journey on Instagram @roxie_valentine.
King of Pride - Kameo Dupree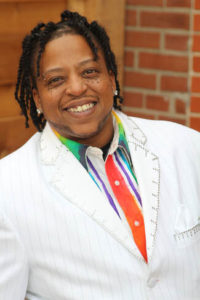 Hi!!!

I am Kameo Dupree! I've been dabbling in the world of male illusion for approximately 10 years now. During this time, I have competed in local, state, and national pageants, hosted shows, served as show director, and mentored some Male Illusionists in the art of illusion. My performance style is everything under the sun but I hold a special liking for blues, county, and gospel.
John Johnson (Ravyn Winters)
Doug Bernier Spirit of Pride Award
For Exceptional Spirit, Pride and Love of Self and Community
Sonny Pitts MEPSI Spirit Award
For Outstanding Service to the Metro East LGBTQ+ Community
Brenda Grissom & Dixie Ruliffson
Community Service Award
In recognition of your continued Support, Dedication and Community Spirit
| Start Time | End Time | Performer(s) |
| --- | --- | --- |
| 12:00 PM | 12:30 PM | CHARIS, The St. Louis Women's Chorus |
| 12:30 PM | 1:00 PM | Ryan Conner |
| 1:00 PM | 2:00 PM | DJ Landyn Cade |
| 2:00 PM | 2:15 PM | Awards and Announcements |
| 2:15 PM | 3:00 PM | EarthSol |
| 3:00 PM | 4:00 PM | StompBox and the Mixtapes |
| 4:00 PM | 5:30 PM | Ashan & Grotsky |
| 5:30 PM | 8:30 PM | Champagne Fix |
| 8:30 PM | 10:00 PM | High Heel Drag Race / Drag Show |